16 Ways to Prepare for Winter Driving
With winter continuously surprising us every few days and, according to the ground hog, six weeks left in winter, we want you to be prepared to stay safe on the roads. The last thing we wish on anyone is to have their car die in the middle of a snowstorm. Here are 16 of the best winter driving tips to prepare you for the worst on the road.
      Test your battery. As the temperature drops, so does your battery power. If your battery tests low, consider switching it out for a new one or purchasing a set of jumper cables to keep in your trunk and to have access to a battery charger at home. 
      Make sure the cooling system is in good working order. This is easiest to have inspected during your regular maintenance appointments. Your mechanic should check for leaks, worn parts or hoses, and any repairs or replacements your vehicle should need. A great mechanic will show you your parts in and out of your vehicle.
      Check your tire tread. Make sure your tires are winter ready with appropriate tread (the deeper the better). If your tires are less than 2/32 of an inch deep, changing them sooner rather than later can save you a greater possibility of an accident. If you don't have a tread depth gauge, you can use the penny check. Place a penny with Lincoln's head upside down into the crevice of the tire tread. If you can see the top of his head your tires should be replaced.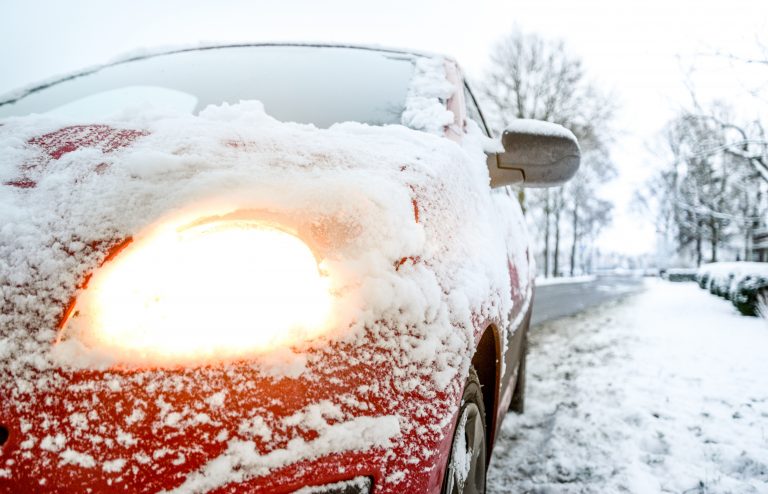 Check your tire pressure. As the temperature drops, the tire pressure will also drop. So while you're measuring your tread, be sure to give your tires a little air.
      Check your wiper blades. Immediately replace them if you find any tears or weak spots. The last thing you need while driving through a whiteout is a wiper to fail. While you're giving your wipers some TLC, be sure to add wiper fluid rated for -30 degrees.
      Keep your gas tank at least half full to avoid gas line freezes.
      Keep salt, sand and/or cat litter in your trunk for emergencies and to get you out of tight spots before digging in too deep. Also consider a small snow shovel and scraper essential tool.
      Have your brakes inspected? This is good practice at least once a year and is something we do at every oil change service and every Virginia State inspection but if you haven't had them inspected, now is a good time to make an appointment to do so.
      Know your vehicle. Specifically, familiarize yourself with safety features and codes to help you drive safer. This can range from controlling the child locks on your back doors to shutting off the automatic traction control locking mechanism… looking at you, Ford Focus SE 2013. Or, for those of you who feel reading a vehicle's manual feels a little like reading Google's terms and conditions, search for your vehicle's specific safety features here.
     Double-check for Recalls. Vehicle Manufacturer recall parts of their vehicles all the time. Double-check your vehicle by entering your VIN on the National Highway Traffic Safety Administration to search for recalls. If you do have a recall, you will also be able to find a free local repair location for that recall.
    Check your lights. This is something we also do at state inspections, but it is also the easiest safety thing you can do yourself. Check headlights, brake lights, turn signals, emergency flashers and interior lights. Being able to be seen is the most critical component in being found.
    Check your car seats. If you have children, check their car seats to be sure they are properly fastened. After a while, the straps loosen and need to be readjusted. If you want a professional to ensure your car seats are safe, visit the NHTSA's website and find the nearest car seat Safety Officer near you.
    Plan your route and allow for extra time. During your planning, let someone know where you are headed so you will have a friend looking out for you in case your vehicle does not make it from A to B.
    Avoid Cruise Control. This helpful feature can spell disaster on unsafe roads. To shut this feature off, most vehicles need you to tap the brakes. This does not fare well on ice. Drive slow; drive controlled.
    Increase your distance. Make sure you leave a minimum of two car lengths to be able to slow appropriately.
   Steer into the Skid. This way when your wheels regain traction you won't overcorrect to stay in your lane. This tip came from many safety training driving websites and we have to agree it can save lives.
We hope you will keep safe on the roads while winter hammers us this year. Global Automotive, a local, family-owned business, has served Fauquier Virginia for over 25 years; our mechanics will make sure your vehicle is prepared for all seasons.
Have more helpful winter driving tips? Leave them in the comments below!